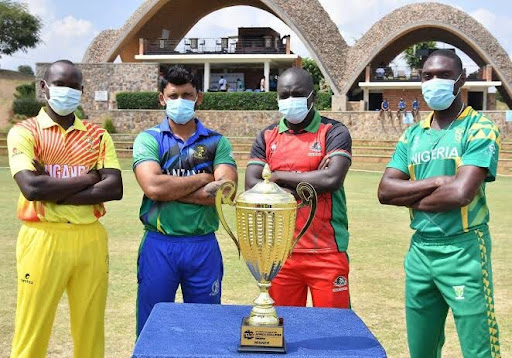 It's been over a week since we got back home from the regional T20 World Cup Qualifiers in Kigali, Rwanda, where The Cranes of Uganda picked up the sole ticket on offer. It was a good tournament all around. Well organized by the RCA, keenly contested games, amazing pitches, and great weather for the most part. It was great entertainment for the neutrals…but we are not neutrals.
Nigeria fans trooped into Kigali in their numbers to support the Yellow Greens. People came in from Texas, Abuja, London, Manchester, Lagos. Pretty much everywhere. Games involving Nigeria were always a spectacle with the bright Green and Gold apparel of the fans lighting up the embankments and pavilion and the smell of Nigerian food wafting through the air. It was a sight to behold.
Nigerian fans are "realistic optimists'. From a simple poll of their expectations, it appeared that good, competitive performances, a few tight finishes, and a win, maybe two would have been regarded as a successful outing for the young, emerging side. Fair expectations, right?
Things did not go quite as the fans had hoped. Over the next few paragraphs, we will try to highlight what went wrong, what went well, and the opportunities that exist for improvement.
-----
The Good
A New Generation Of Fast Bowlers
In an unfortunate turn of events, even before a ball had been bowled in Kigali, coach Asanka had a 6 foot 1 inch sized hole in his plans. Rasheed Abolarin had been ruled out of the competition with what seemed like a recurrence of his knee and ankle issues. A huge blow. Recall that Abolarin had lit up the u-19 World Cup in South Africa a few years ago with amazing spells of fast bowling that had players from England, Australia, and West Indies jumping about in their crease. Everyone was looking forward to seeing how much he had developed since then. He had to be replaced by Taiwo Mohammed.
We have always been a bowling side. Every generation of cricketers is blessed with a good number of seamers and swing bowlers. I heard about the exploits of Uche Ntinu, Seye Fadahunsi, Dipo Idowu. I saw the cohort of Kunle Adegbola, Joshua Ogunlola, Thomas Haruna, and then the class of Saheed Akolade, Abiodun Abioye, Chibuike Iteogu. Depending on how you look at it, it may appear as though the quality of fast bowlers being produced has dropped with each passing cohort. I do not know if that is right or wrong but, in Peter Aho and Prosper Useni, in addition to elder statesman, Isaac Okpe, and Rasheed Abolarin to return, Vincent Adewoye and Mustapha Yussuff are still available for selection. I am quietly confident that the foundation of a solid attack is being formed.
A Genuine Leg Spinner
Or at least as close to one as we have ever had.
As Ridwan AbdulKareem bowled his first over in senior internationals for Nigeria, a former Nigeria international and National Selector commented that it had been a while since a leg spinner was picked to play for Nigeria with the last one being Tayo Atoloye whose international career does include a 7 wicket haul against one of our "noisy neighbors".
It may be purely coincidental that Tayo is on the board of the NCF now but there is no coincidence that 4 of the top 5 Bowlers in T20Is are right-arm leg spinners. Those twirlers have something going for them so it's good news that Asanka has taken it upon himself to develop the talents of the young man. We predict a bagful of wickets and match-winning performances over the coming years.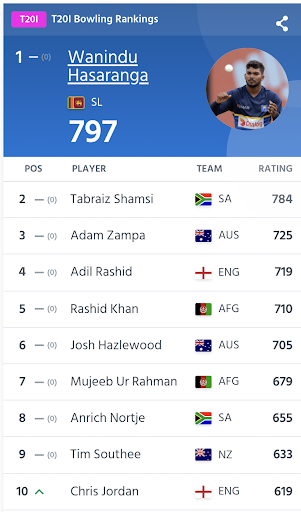 The Twelfth Men and Woman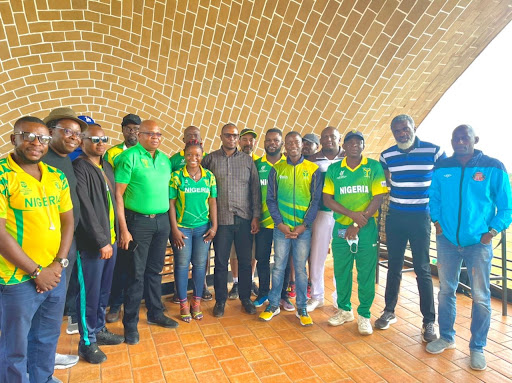 Kigali was not a great outing for the Yellow-Greens, but it was good enough to have armies of fans troop in. One thing that will not be lacking if the team shows better promise and step up their performance is the number of people ready to shelve work and stake their savings to be in the pavilion with them.
An Evolving Backroom Staff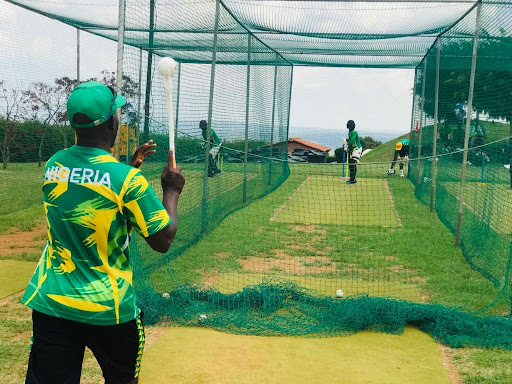 If you have been following the Yellow-Greens, you may have noticed that some form of professionalism is finding its way into the make-up technical team. We used to travel light in the department. Coach, Team Manager...and that would be all. Now, not only have we found ourselves an assistant to Asanka, but we also got much-needed personnel for the very important roles in the support system. We have a fitness coach, a physiotherapist, and most mind-blowing of all, a data analyst. We are hoping this is just the beginning because there are still important spots to be filled. Did I hear you say a batting coach? And erm...in case someone's listening (reading), there's one spot else I would love to see filled. Unless the cost Is killing, we should, like we got a physiotherapist into the team, get a psychotherapist into the team. It is not just the body that needs conditioning. The mind needs to be in the right place, at the right time, for the right occasion.
-----
The Bad
Insufficient Exposure
Not for the first time, our team was found to be way less experienced than the opposition. And I'm not talking about the years of play. After all, we had in our ranks Ademola Onkoyi and Segun Olayinka. Two veterans who first donned the nation's colors in the mid-2000s. The experience we lack tends more towards exposure, tactics, and game management. Before the trip to Kigali, we only played 6 games, on home turf, against one opponent - an opponent below us on the ICC rankings. If this was the preparation they went to war with, not even the most perfect alignment of stars will overturn the chasm between us and other competitors.
Kenya and Uganda have made it a habit to have several top-quality expatriates play in their respective leagues. Indians, Sri Lankans, and Pakistanis have been specifically targeted and brought in to strengthen the competition that their top players face week in, week out.
They have also made sure that a handful of their players have been given the opportunity to play in more competitive environments by sending them to franchises with high-quality facilities.
Lastly, (and say this quietly) they seem to have headhunted players from the subcontinent who were never going to play for their nations of birth but are good enough to do a job at the Associate level. Think Namibia and David Wiese. We will not go as far as asking the NCF to go this route but surely we have to be able to strengthen somehow.
The Batting Myth
It's a grand old game that is played in the mind. Another aspect we seem to continually discountenance is that many battles are first executed in the mind. Before the coin even goes up in the air, the mind already laid out the blueprint for the body to follow. It is uncertain if our players get their psychological alertness boosted before stepping into the field aside from the traditional battle cry of "let's go boys" we regularly hear as they take the field.
The biggest battle with our batting is not the bat and ball; it is what we have fed our minds with from the cricket class, "we are not a batting side", and that other bull$#$.
Maybe we are not as flashy as the other teams. Maybe we have not faced as much quality fast bowling as often as they have or maybe spin is our bane but we really should be doing better with what we have. Innings from Sesan Adedeji, Isaac Okpe, Onikoyi, and a cameo from Peter Aho aside, we generally crumbled like a pack of cards for the most part. We didn't take advantage of the fielding restrictions during the power play, we didn't get singles in the 30-yard circle when there were only 4 men in, our doubles became singles and our boundaries became doubles
In the first game against Uganda, we saw what is possible if we applied ourselves, with regular encounters against tougher opposition, we should be able to get the lads better prepared and cast out the demons. Isaac has been one of the few players defying the odds here and a couple more has shown promise, but Nigeria requires more consistency from this group.
-----
The Future
Long Term Investment
The NCF has, over the last few years, invested heavily in players, facilities, and equipment. However, there's still plenty of room for more investment. For instance, all through the training camp prior to the bilateral series in Nigeria; and even the tour to Rwanda, there was no bowling machine in sight. From a good source, we heard that the TBS Oval, houses a bowling machine but why the team does not use it as regularly as it should still remain a mystery.
Not that alone, we also heard that the NCF invested in the acquisition of the PITCH VISION kit for training and monitoring. But it has so far been underutilized. Performances are not being monitored, statistics are not being thoroughly analyzed, fitness is not being properly managed.
Even our training facilities, for now, look really basic. Our "high-performance" centers are yet to deliver impacts high enough for the level required. Agreed, these are early days but if you think about how much ground we need to cover, then you will agree we are already living in the past.
Horses for Courses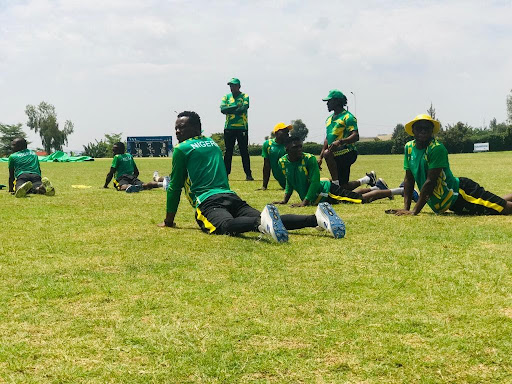 The national team is not just the national team. It is time for us to start breaking players' involvements into specific formats. Some people are not just made for the fast lane and that is what T20 cricket is - fast-paced, all action.
Some players are built better for the orthodox, progressive approach to building innings. Asking them to step on the gas from ball one is a bridge too far. Bad for the team, worse for their figures. The searchlight needs to be beamed wider to find more potential blasters for the batting line up; and more potential economists for the bowling attack. From this point on, we need a T20 team and a one-day team. If any player is versatile enough to fit in both at the same time, all the better for the team. But enough of one-size-fits-all team selection.
Again, we've lost a couple of players to day-job and pursuant to other careers, when they visibly could have fared better if the game sorted their daily bread. The pack we have now may be decimated for the want of survival.
There is the age-old rumor of contracting top players, it would be nice if it's actualized now. It will create stability for the team for now and in times to come.
Cricket can deliver joy, purpose, and development on a grander scale, if we choose to work it, the harvest is unlimited and lives will be changed, for sure.