The defending champions of The Edo Cricket League, the U17 Cricket Club saw their first taste of action this weekend and left an indelible mark on their first real opponent to prove that last season's success was indeed not a fluke.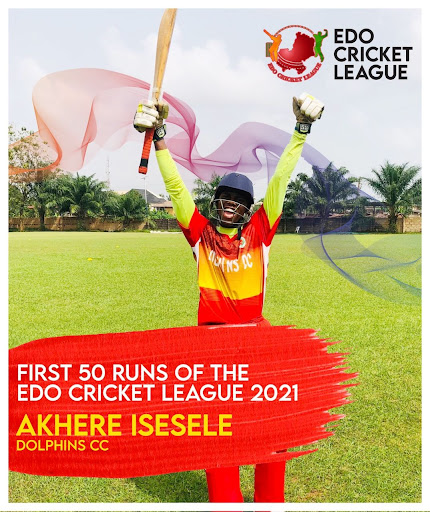 After securing a win by walkover last weekend against UNIBEN Cricket Club, and parading mostly the national U17 players, the team made light work of Crusaders Cricket Club.
David Abiebhode took 5 wickets in 2 devastating overs to decimate the Crusaders CC batting lineup. Crusaders never really recovered as they limped to a total of 28 runs in only 8.1 overs. The u17S knocked off the total without loss in 5.5 overs.
In the second match of the weekend on Saturday between Dolphins CC and Invictus CC, despite the efforts of the Isesele twins; Odion and Akhere along with Agbi Godsent for the Dolphins, it was Asia Osaro's 3 wickets for 4 runs in seven balls that changed the game and gave Invictus victory by 28 runs.
Dolphins Cricket Club only needed 24hrs to get redemption from the loss to Invictus as they returned on Sunday and took out Integrity Force Cricket Club. Akhere Isesele led the way with the bat scoring 63 runs while Adjiwanou Courage took four wickets for 6 runs in 4 overs to tame the rampaging Integrity CC for whom Vincent Adewoye took three catches.
Dolphins won by 45 runs.
The last match was No-Limit blowing past Crusaders CC by 91 runs, leaving the latter's title challenge in tatters.
Vice-Chairman of the Edo State Cricket Association Barrister Abraham Oviawe said that despite the impressive results by some clubs and seemingly woeful outings by others, no club should be underrated at any point.
"Some teams' chemistry and partnerships may click as the season progresses. I see a lot of potential in some of the clubs that seem to be struggling and I think it is too early for any coach to count their chicks. The league is still very open." He said.
The Edo cricket League is one of the top Cricket Leagues in the North-West Africa region and features a high percentage of players representing the country at different levels. The current season 2021/22 features eight teams with main and feeder teams for development purposes.