Let me take your minds away from the Indian Premier League for a moment. Many people don't know, but there's an internal series going on currently in faraway Rawalpindi. Pakistan is still enjoying their return to hosting cricket matches in their country as they welcome Zimbabwe for a tour of 3-match ODI and T20 series.
Many would have written off the series to be boring and interesting but if you saw any of the games, especially the 1st and 3rd ODI, you would have been treated to some fun and action from both sides.
For those who missed it, let me serve you a bit of the glimpse I caught of the 1st and 3rd games. Usually when run out decisions are being reviewed on the slow motion replay, the TV umpire is trying to establish whether or not the batsman had made his ground. But Asif Yaqoob, the TV umpire in charge of the game, was forced to use the technology in an unusual but interesting way.
There was a horrible mix up between Imam-ul-Haq and Haris Sohail, and the two find themselves at the same time at the batting end of the pitch... did you note what I wrote? AT THE SAME TIME. And with the bails having been taken down at the other end, it was left for the umpire behind the screen to determine who had slid his bat over the crease line first.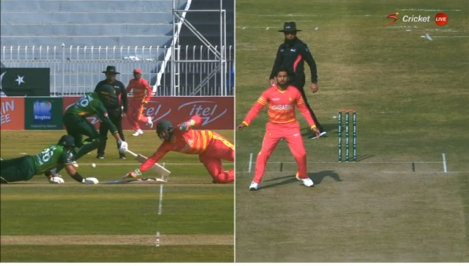 Penny for the thoughts of the umpire standing and watching the unfolding drama at the striker's end. One thing is sure though - neither Imam not Haris will ever want to see footage from that incident ever again. And to the drama of the 3rd day... Like the popular saying, these sides saved the best of the clash for the last. As it turned out, Zimbabwe became the first African nation to not only play in a Super Over, but also win an ODI game in a Super Over. In a final over that ebbed and flowed, Pakistan was able to tie the match off the last ball thanks to a midfield in the cover area.
Zimbabwe did not let the midfield play too deep into their mindset and their hero during the main game, Blessing Muzarabani, who had taken 5-49 in his 10 overs, stepped up with the ball, and needed only 4 balls to confine Pakistan to just 2 runs in the Super Over. Needing 3 runs to win, even my local team here in Lagos would have strolled to victory given the circumstances. I need to take some rest now that both sets of players in the UAE and in Rawalpindi are resting. We resume action again in a few hours.
- A Groundsman