They say "get you a man that can do both". From Flintoff to Stokes, Symonds and Kallis, all-rounders remain the glue that holds many a lineup together and, Vincent Adewoye looks set to be one of Nigeria's all-time great all-rounders.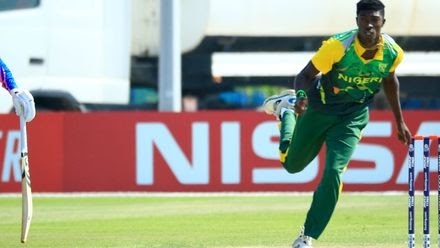 An absolute dynamite of a player who can hold his own either as a bowler, swinging the new ball at pace or seaming the older ball off the pitch or as a destructive middle-order batsman, putting bowling attacks to the sword with just about every shot in the book. You can call him the complete package.
I first caught a glimpse of a very young Vincent some years back when I spent Easter weekend playing cricket at the Liberty Stadium in Ibadan. I didn't pay as much attention to him as I was enthralled by the talent of some of his other mates, a keeper/batsman and a swing bowler, both of whom have also gone on to play for Nigeria. Everyone has since had to sit up and take notice of the exciting talent and the rapid rate at which he has developed in the last few years.
While Vincent's cricket abilities are clear to see, his best attributes, in my opinion, remain his quiet confidence and unwavering self-belief. I have seen him take the ball in difficult situations and bowl match-winning spells. I have seen him time run chases to perfection, picking the right bowlers to go after, striking the ball cleanly when it's there to be hit and picking up singles when the bowling is tight and generally just keeping the asking rate within reach. He always seems to make the right decisions, time and again. If you are wondering what his weakness might be, I can confidently tell you that it's not fielding. He really is the complete package.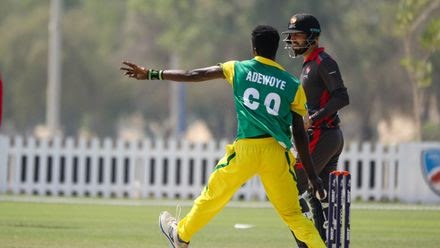 Trust into the deep end as a captain when he was appointed by the GCU management to lead a young team, he hasn't done too badly. You can, however, say that he has a lot to learn in this area of the game. Often times, from the outside at least, he appears to not want to ruffle feathers and almost always allows the senior members of the side have their way to the detriment of the team. He is young and learning on the job so I would not worry too much.
Vincent would benefit greatly from working with a top coach and testing himself against high-quality opposition regularly. We will continue to keep an eye on his progress. Until next time, the Scout says take care and stay safe.
All images were culled from the official website of the International Cricket Council